Hey Traders,
for newer and even experienced traders it is often good to hide out some of the volatility action by trying to leverage a hundred or two bucks into a big funded trader account. As always, I keep an eye on the industry for one of my projects, and let's look over the best deals and discounts available in Futures and Forex trader funding.
UPROFIT 40% OFF Site Launch Deal – Futures
What: Uprofit Trader Funding
Discount Code: SAVE40 for 40% off all programs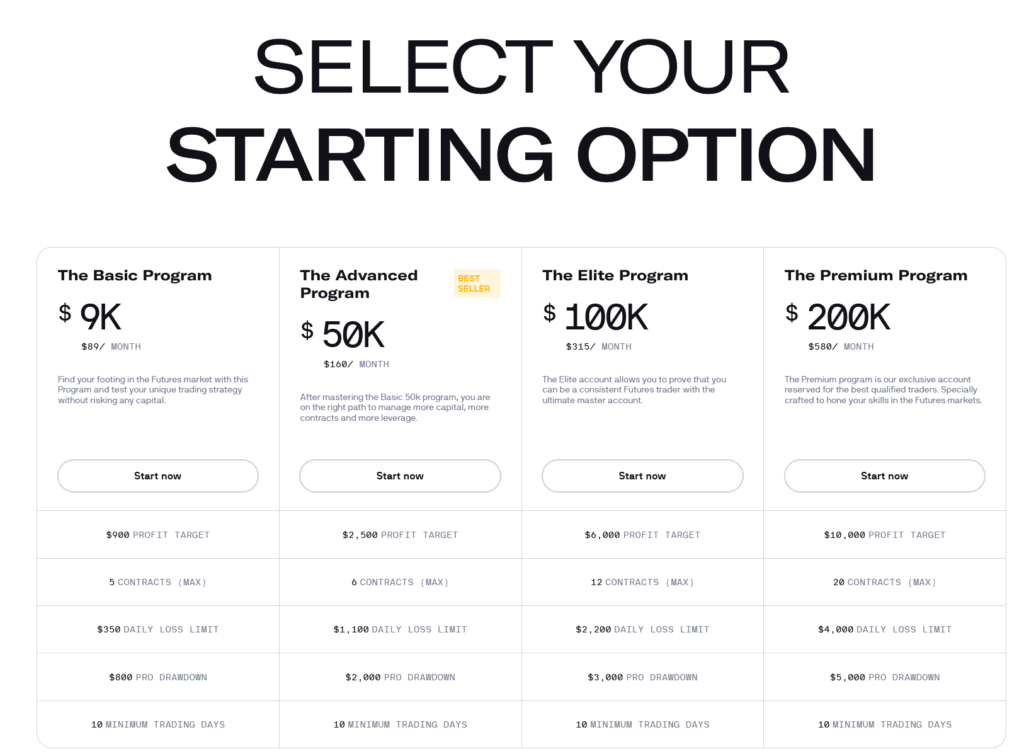 UPROFIT Site re-launch special of what I already considered to best program on the futures side, thanks to:
10-day evaluation
EOD drawdown – does not trail like some competitors, drawdown only recalculated at the end of the day
Best payout processing – 24 hr payouts without minimum day traded requirement.
200K account is nice add to the program during the relaunch, traders finally can qualify for bigger account with $5000 EOD drawdown for about $350 with
Earn2Trade Career Path 20% off & Skip a Step – Futures
This is a great format for funded traders where you can grow accounts while withdrawing, instead of hurting your available drawdown with withdrawals like most other funded trader programs where you have to keep a cushion.
What: Trader Career Path by Earn2Trade
Discount: Skip first step and save 20% – $120/month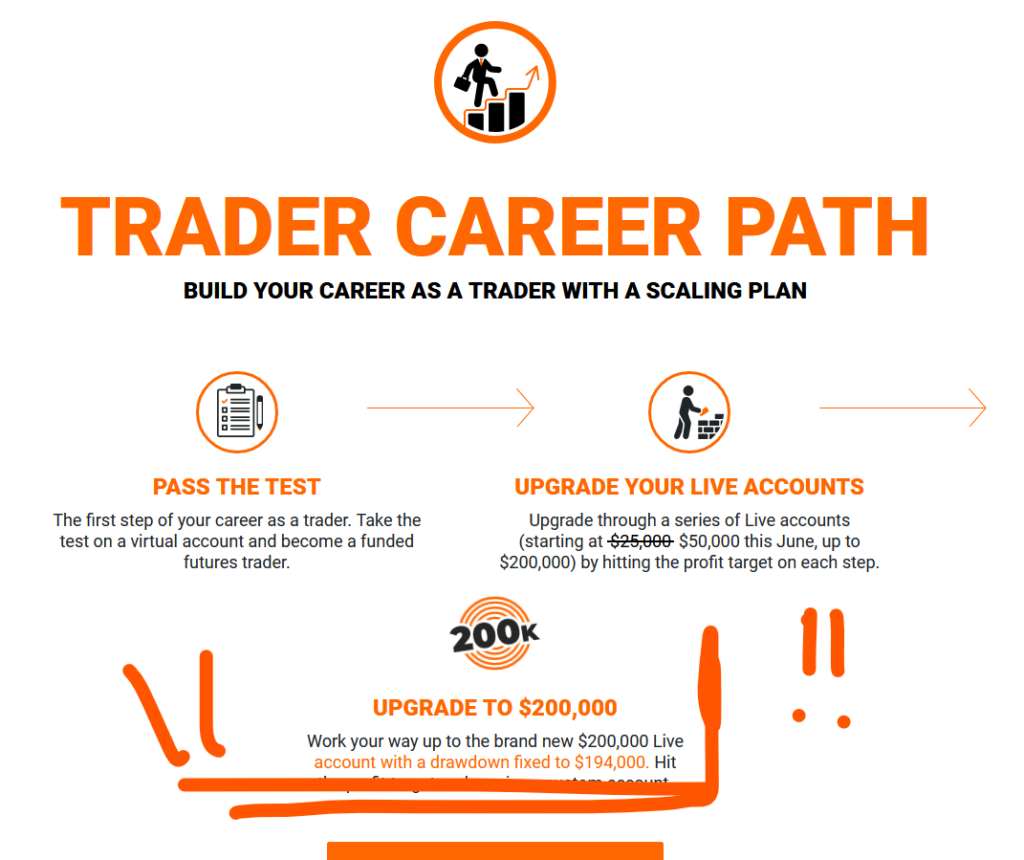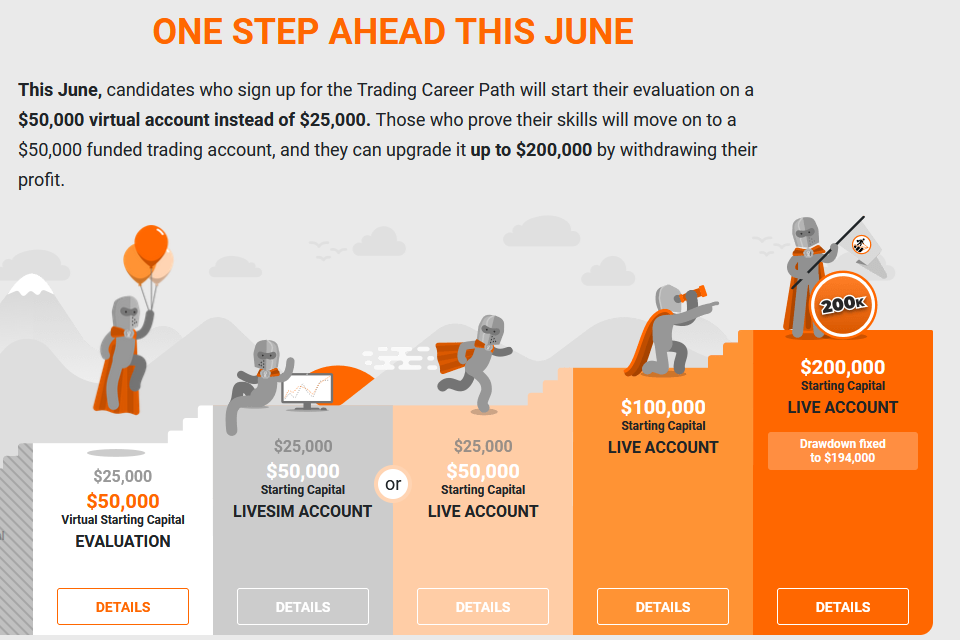 previously traders had to complete 25k step to advance to 50k step, now first step if 50 evaluations equivalent that is better value than competition 50k evaluations without career opportunities.
Important to note, that the final step is not the end, static drawdown 200k account has a profit goal. Upon reaching that profit goal traders will be made a custom offer to trade with the Earn2Trader partner prop firm. So if you are looking to get some quick exposure without much track record. You Should be able to do it here.
What: Trader Career Path by Earn2Trade
Discount: Skip the first step and save 20% – $120/month should be applied automatically in the cart, if not, the chat on the bottom should pop out, it's "50careerpath"
Forex Program Discounts
Forex programs are more than just currency trading, the programs listed below have Index and commodity products available to trade. Considering the current high volatility environment in crypto, let's list the programs that offer weekend trading in crypto as well.
Forex Prop firms offer a better format than futures counterparts, so if you are comfortable executing on MT4/MT5 you will get better value there.
True Forex Funds
What: True Forex Funds
Discount: Refundable fee with first payout
Program highlights:
Two Step Evaluation with only 8 and 4% profit targets
STATIC drawdown, good drawdown.
Bi-weekly withdrawals
Good spreads on all index, currency, and crypto products
Scale account size up for good performance
Near zero forex spreads
My favorite overall program
Funded Trading Plus – Forex, Crypto, CFDs
This is a new program but is great for traders who do not want to jump through too many hoops.
No minimum day evaluations. Qualify for as few as one trade in their single-step programs. Their two-step program also has zero day requirement.
What: FundedTrading Plus
Discount: OPT10 to save 10%
Was a little hesitant to recommend since they are so new. But just last week qualified for account on Friday, trade some of my crypto action in it on the weekend and got my payout request serviced on Sunday for mid 4 figures.
If you are an impatient trader who doesn't want to jump through too many hoops and be able to get paid out from day 1 of funded account profits, give FT Plus a look.
As always, keep in mind, that these programs are not charities and they do make money by having traders fail.
How does Funded Trading Plus do it?
"It" Being 0 day 1 step funding and withdrawals from day one. Of course, there have to be some trade-offs.
Drawdowns are smaller than in staple traditional evaluations
Drawdown trails up at the top of equity until the initial balance is met, then it stops trailing
30:1 leverage
As always, know what you are getting to.
Deep Discount Futures Programs
These programs offer a very low entry cost to start. That cost comes with some tradeoffs like live trailing drawdown and withdrawal limits over the first few periods, however
Apex Trader Funding – Discount Code still XMAS50 – All accounts 50% off
Biggest name in discount trader funding – recently have rolled out new dashboard and features.
Now if you fail out of the funded account you will be given a chance to jump back into evaluations for 80% off.
Elite Trader Funding – Have some very deep discount express evaluations – 10 trading day max evaluations at low cost. Can trade from TradingView and Tradovate from mobile and all platforms.
If you have any questions drop a comment below and I will help you find programs that most fit your needs, there are dozens of them out there.
As always, remember, those programs make money by having traders FAIL, few like Career Path benefit from having you succeed. So these are not guaranteed funding opportunities. They are however great for leveraging a single trade idea or a single hot streak and a small fee into 15-50x in drawdown per fee paid.
Trade Well
Vlad