Update: Traders, this flash sale has ended. You can still purchase Apex evaluations for 50% off using code XMAS50. If you would like to check more funded trader deals, please check May Deals Page
So many traders have been blowing up their evaluations in recent volatility that Apex Trader Funding can afford to run 80% off sale from Monday morning through Thursday. Apex Trader Funding will be offering 80% off all size accounts' first months, and subsequent months will be 50% off.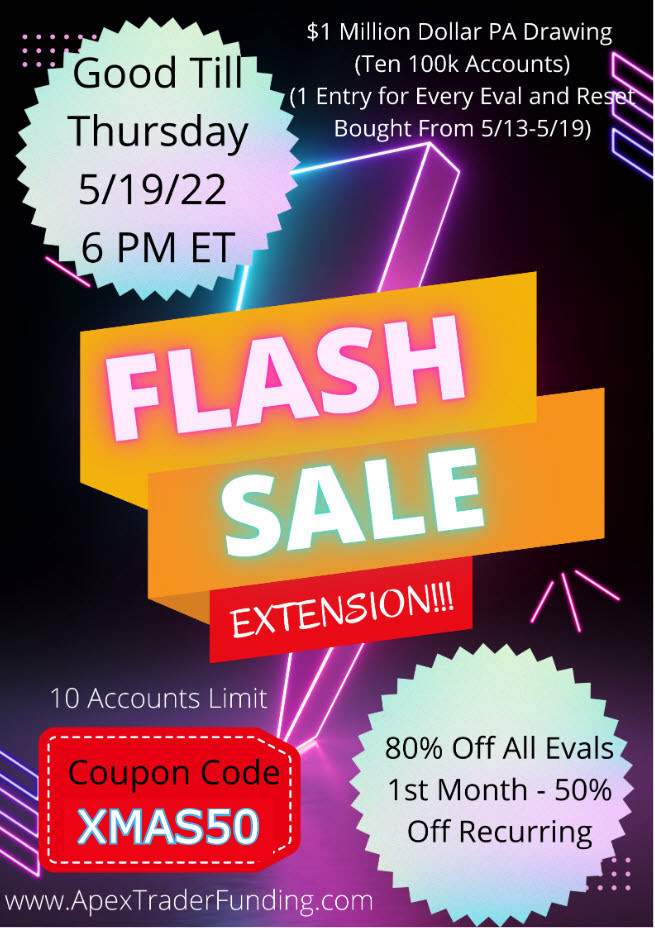 Apex Funded Trader Program Discount Code
Discount code: XMAS50
The code should work for 50% off even after the sale over, but for now 80% off.
Simply go to Apex Trader Funding
Pick the Program of your choice and enter code XMAS50 at checkout
Multiple Apex Funded Accounts
Traders are allowed to purchase up to 10 accounts at this discount.
IMPORTANT: do not create a new sign-up account. Buy up to 10 accounts one at a time, they will appear under single Rithmic Login.
What Else Do Traders Need to Know About Apex
The Good:
10 days to funding
Just 1 drawdown
Trade full size from the first trade
Very fast processing of successful evaluations had my live accounts ready in under 2 days after completing accounts.
No consistency or maximum profit goals. Make all the money with a single trade and then just punt Micro contracts to count the rest of the days
Free Ninjatrader to use while with Apex
The Bad:
Trailing Drawdown in evaluation
Trailing drawdown in live account – stops trailing at initial balance
Restrictions on withdrawal amounts first 4 months
If you qualify multiple accounts you will need to pay data and setup fee for each
If those parameters do not fit your goals, feel free to look around Trader Funding page for other options.
Summary of 80% off Apex Flash Sale
Great low-cost opportunity to attempt to get funded or just play around with software or get an alternate data source.
Great way to try new strategies and systems. Can even use to hedge against your positions. Get funded with your hedge if your main position is a loser. If not, no biggie, less than $100 wasted.