Breaking news! It's no longer February, please check May 2022 Trader deals
Hey traders, the funded trader industry keeps growing with even new companies paying out six-figure profit splits monthly.
Space can be a bit overwhelming, so let's break down the best opportunities for futures, forex, and crypto traders to get funded.
Funded trader program evaluation criteria to see which ones provide the best value to the trader. Individual traders have unique needs, but generally, paying less to get more in a shorter amount of time is optimal.
Best Futures Funded Trader Deals on Top Programs
Forex traders wanting to try these programs can still trade currency products via CME currency futures
UPROFIT TRADER 40% OFF
Go to: Uprofit Trader
Enter Code: UPRO40 during checkout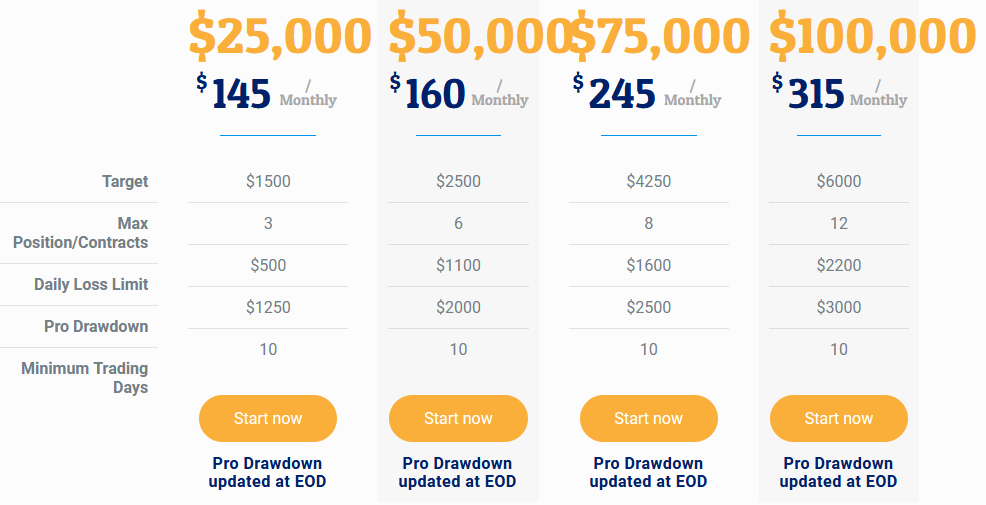 Uprofit Program Highlights
✅ Single Step – 10 days to funding
✅End of Day Drawdown
✅50k program offers almost 20:1 drawdown per fee ratio, rare in the end-of-day drawdown single step trader evaluations
✅ Fast Payouts, no need for minimum days, can request to be paid on the first day
Remember to use 40% off code UPRO40 at checkout
---
Apex Trader Funding 50% OFF
To get the deal go to Apex Trader Funding
Enter Code XMAS50 at checkout
Apex Trader Funding Highlights
✅Single Step 10 day evaluation
✅Most contracts per fee paid and for equivalent size accounts
✅No scaling plan or news trading restrictions
✅Multiple accounts allowed. Can get up to 20 accounts under one master account and up to close to 1,000 mini contract size in total. If you are inclined to get really crazy.
❌Live trailing drawdown calculation
---
Best Forex Prop Firm Deals
Most Forex prop firms are so much more than just currency trading firms. Commodities, cryptocurrency, world indexes via CFDs, stocks/shares and so much more can be traders under one account. Best Deals going right now
Fidelcrest 2 for 1 Sale
Two-Phase evaluation program with a wide range of programs available for beginner and experienced traders.
To get the deal go to Fidelcrest Trader Funding
That Link should automatically apply the discount if not use discount code WIN-2FOR1
FidelCrest Program Highlights
✅ Two-Step trader evaluations up to $50,000 in drawdown
✅Up to $25,000 commission just for completing an evaluation, before entering a partnership with a funding prop firm
✅175+ Products from Forex to Crypto
---
Weekend Crypto Trading
Traders who would like to participate in crypto markets by taking out the risk and limiting it to funded trader program fee paid can do so. While there are no options in funded space no options for obscure coins, major like BTC and ETH can be traded 7 days a week with
E8 Trader Funding
To get a refundable fee program go to E8 Trader Funding
E8 is mostly a Forex trader program, but traders are welcome to trade commodities, index products, metals, and CRYPTO! E8 has the best spreads in the crypto space for funded programs, and traders are allowed to participate 7 days a week.
E8 Program Highlights
✅Refundable Fee – get fee returned after completing evaluation with first funded payout
✅0 days to funding. Can pass both phases the same day.
✅Static Drawdown
✅Career opportunities with ELEV8 program
These funded trader programs cover the best in each niche, if you would like to explore more options, check out the Trader Funding section of the blog.
For additional guidance message me on Twitter or here.
Vlad